Overview
View the schedule of Classics summer classes.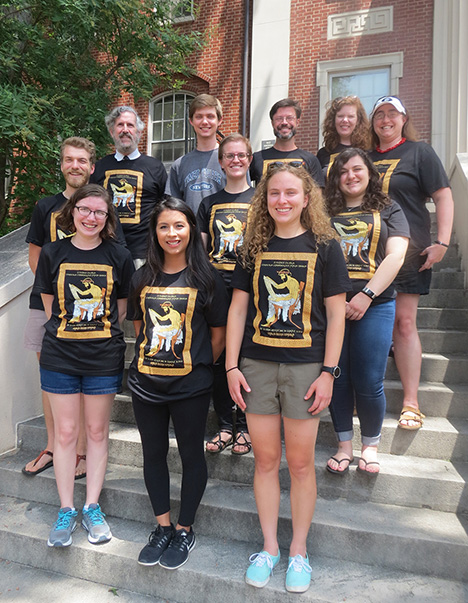 View the Summer Institute Graduate Student Handbook.
For more than 30 years, the Department of Classics at the University of Georgia has sponsored the Summer Classics Institute. The Institute offers a variety of undergraduate and graduate courses, including Latin and Classical Culture courses, and, in alternate years, Intensive Beginning Greek and Intensive Beginning Latin. The Institute's summer programs are an attractive option for
Latin teachers who wish to continue their education or work towards initial or upgraded certification
Students who are interested in pursuing a Master of Arts degree in Latin on a summers-only basis
Students who are seeking a summer enrichment program in Classics.
Classes are held from mid-June to late July; some courses are offered in intensive three-week short sessions. Requirements for the M.A. in Latin may be completed in four summers, including, if the student wishes, one summer term in Rome or on an archaeological site; a non-thesis option, including teaching methods and other additional coursework, is available for teachers. The Classics Department faculty share in a tradition of cooperation with high school teachers and programs that culminates each summer in an exciting and challenging curriculum. We look forward to welcoming you in Athens this coming summer.
*Please note: If you wish to take only the Intensive Greek or Latin courses, you may apply to UGA as an undergraduate transient student (more info) and do not need to complete the Summer Institute application.
Tuition
Tuition rates for summer 2022 are $370 per credit hour plus fees for in-state students and $1050 per credit hour for out-of state students (UGA Tuition Rates per Semester Summer 2022). Latin teachers from outside Georgia receive, upon application, a tuition waiver to reduce tuition to the in-state level. Modest scholarships are also available from the Department (application forms are available in the on-line application packet). Scholarships are also offered by organizations such as the American Classical League (ACL), the Classical Association of the Middle West and South(CAMWS), and the Horace Mann Companies; contact these organizations directly for information.
The LaFleur Scholarship Fund, established in honor of Professor Richard A. LaFleur, provides a limited number of scholarships for Latin teachers enrolled in the University of Georgia's Summer Classics Institute. Only teachers of Latin (K-12) who are accepted (or with application pending) to the Classics Institute are eligible to apply. Deadline for application is April 1 each year.
Please complete this FORM, save as pdf, and submit as attachment by email to: classics@uga.edu
ARCHE Cross Registration
The Summer Institute participates in the ARCHE Cross Registration program which provides  opportunities for enriched educational programs by permitting students at any of the 20 Council institutions to take courses at any member institution. To participate, cross registration students must enroll in at least one course at their home institution.  For more information, see ARCHE Cross Registration.
Housing
For the most up-to-date information about available University Housing, please visit the University Housing website. Please note that you must be an enrolled student (are registered for summer semester) to qualify for University Housing.
Admissions
All participants in the Institute must also be admitted to the University of Georgia, either as Degree or Non-Degree students. Please consult the Graduate School for application information and forms, or you may apply electronically through the Graduate School website. For admission to the Summer Institute, complete the online forms found in the Application Checklist.
Deadlines
Application and supporting documents should be sent by April 1st for domestic applicants, six weeks earlier for international applicants.
Contact information:
Summer Institute, Department of Classics, Park Hall, University of Georgia, Athens, GA 30602–6203; tel. (706) 542–9264; e-mail classics@uga.edu.