A.E. (Alicia) Stallings, Summer 1988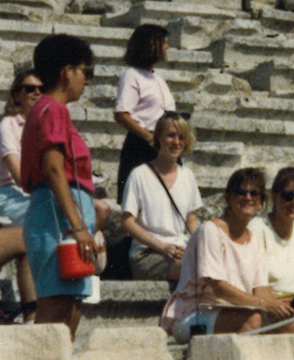 I first set foot in Greece on July 9th, 1988. We arrived in Athens, and stayed at the Hotel Astor near Syntagma square. I had just turned 20.  I remember this and a welter of other details because part of our course was to keep a journal/notebook, which I did with enthusiasm as to the journal (mine ran to two volumes), and less enthusiasm on the note-taking (the most frequent abbreviation is ATWS—"and then we saw"), occasionally bursting into purple prose or deliberately bad verse.  The visit to Crete, for instance, begins: "And then alighting with silver feet / I touched the fabled land of Crete / and waited there that I might greet /  My comrades, lowly and elite, / Who travelled through the air and foam / O'er sea, beneath the azure dome / From London, Ancient Athens, Rome…"  We were encouraged to use the journal as a scrapbook too, and it is something of a shock to reopen it and see tickets and sketches from over 20 years ago, confirming the reality of distantly remembered events.  I had even clipped a Peanuts comic strip out of a Greek paper, because I had been tickled to see something so iconically American in something so exotic, it seemed to me, as the Greek alphabet. 
We had arrived in Greece from Rome while a lot of strange energy was in the atmosphere—the U.S. had a week previous accidentally shot down an Iranian passenger airliner; there were anti-American protests (I ended up in blithe ignorance smack in the midst of one—and had a conversation with an Iranian who had studied at Middle Georgia College, and had fond memories of an exquisite American dish, meatloaf).  We were also in Greece during an isolated terrorism incident:  the "City of Poros" cruise ship was hijacked by Palestinians two days before many students in our group were going on a nearly identical Saronic three-island cruise. Some students were alarmed by this and cancelled (there were also panicked phone-calls from parents), but I figured it was about the safest place to be, statistically.  Those who went had a fabulous time in the end, and I wrote in my journal rapturously about the island of Hydra.  It's quite possible that my future husband, John Psaropoulos, was on the same island on the same day, as his family had once had a summer house there.
I am struck, too, rereading the journal, by differences as well as similarities in how students travelled then and travel today.  In 1988, none of us used e-mail or had cell phones.  Telephone calls home were made on public landlines, and only in cases of emergency or perhaps a birthday.  We sent postcards and letters.  We travelled with traveler's checks and could receive mail or cash from parents by tracking down the local American Express office.  (I remember the one that used to be in Syntagma square.)  We had to work out exchange rates for lire and drachmas.  Did these things add to our sense of freedom and adventure?  Perhaps.  But no doubt the connection students today have via e-mail and Skype gives parents an added sense of security and alleviates some of the culture shock or the odd pang of homesickness of the first-time traveler. 
It's clear from the journal that everything about Greece thrilled me—the strange alphabet, the music, the street energy in Athens, the food, the islands, the ancient art—the exuberance of the Minoans especially.   It's true I spend a lot of time in the journal insisting I don't think very highly of Byron, but in retrospect this is a young poet protesting too much.  
It's also clear that my experience of the Classics was transformed by this visit—I would write in an essay for the Foundation Fellows (which I will try to dig up—I just ran across it again this past Christmas) that I had a renewed idea of what ancient literature meant—I had a feeling for the reality, the eternal presence, of things—these languages weren't dead, and the places weren't just marks on a library atlas, not fantasy places like Tolkien's Middle Earth, say—but places that continued to exist, with sights and sounds and smells sometimes unchanged across millennia.  The ancient world became alive for me and the modern world was forever altered.
To say that that trip to Italy and Greece with the UGA Classics department was life-changing would not be an exaggeration.  So many choices in my later life seem to be nudged by those first electric perceptions.  I graduated as a Latin major, and went on to study Latin and Greek.  A decade after this first visit (and I visited several times after), I moved to Greece.  Now I live in Athens, Greece, in a neighborhood called Neos Kosmos (the "New World"), probably a twenty-five minute walk from the Hotel Astor.  Nearly every day I pass the statue to Byron and walk down Byron Street.  Believe it or not, I make a living writing poems, and translating from Latin and Greek.  I married John Psaropoulos, a fellow classicist (now a journalist for Al Jazeera English) whom I met in London, when I worked for a brief stint at the Institute of Classical Studies as the Tea Girl.  (That's another story.)  And I have two lovely bilingual children, born in Greece, and named, as it happens, Jason and Atalanta. 
Megan Arocho, Summer 2014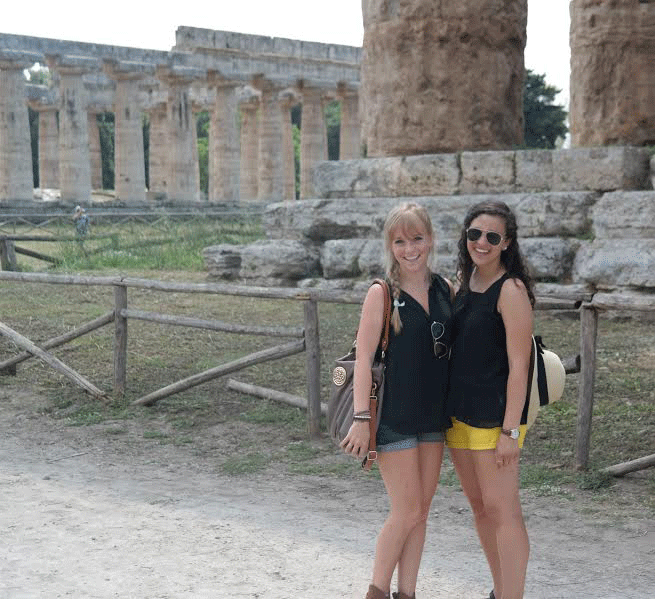 What could be better than spending a summer eating gelato every day, exploring the city of Rome while simultaneously learning the history of every rock and broken column? Nothing, that's right. While the thought of living in a foreign place for six weeks with complete strangers was quite frightening, I don't think I could have dreamt of a more perfect summer. Dr. Gregg was a super star when it came to giving a lecture that held your attention despite the hustle and bustle of the city surrounding you. Through this program, you really become connected to the history and present life of the city of Rome. The dear friends I have made, the memories and pictures I hold dear, and the vast amounts of knowledge I gained this summer will forever be a part of who I am. Team Gelato forever. 
Katherine Wasdin, Summer 1999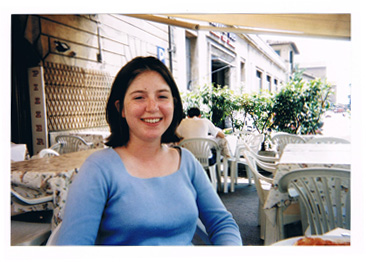 My trip to Rome with the UGA Classics department program was fantastic, and has been profoundly important for my career as a Classicist. It was my first experience of spending significant time in a foreign country. I had already learned Latin with the inimitable Dr. Bianchelli, so I had a familiar guide, but otherwise I was thrown into a totally new environment. In the program, I learned my way around the city and how to travel on my own on the weekend trips. I have since returned to Rome many times, and am always grateful for the knowledge of the city I developed during the program. Learning about ancient history, art, and architecture in the city itself cannot be replicated in classrooms in America! In addition to highlights like the Forum and Colosseum, the program also offered many opportunities to visit sites not normally open to the public, like subterranean trips under temples and to a house on the Palatine, and taught us to appreciate out-of-the-way monuments, such as the archaic Servian walls, which snaked through the neighborhood we stayed in, and the complex paths of the Roman aqueducts. Group trips to Campania and other nearby towns helped put the Roman material in context. The program was academically rigorous, but still allowed us time to explore the city on our own, and I highly recommend it!
Sarah Keister, Summer 2001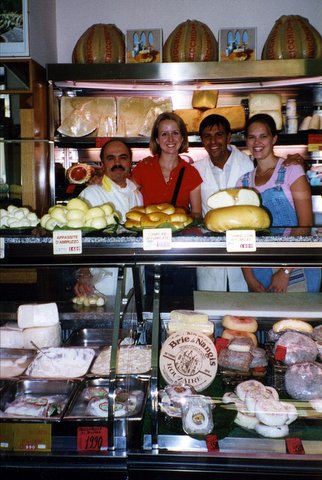 As an undergraduate in dual degree programs at the University of Georgia, I saw study and travel abroad opportunities posted on every bulletin board, stairway, and bus stop. There was no contest, no comparison, nothing that even comes close to the Classics Dept Study Abroad in Rome. It was the perfect one for me. Not only did it kindle innumerable academic and cultural arenas, bringing my passion for classical civilizations, art, and language to life, (Whaaat? The Colosseo, Pompeii and David are larger than life!) but more importantly, I would say, it gave me personal insight to myself, my goals, and dreams. It lit a flame that still burns bright today, a graduate degree and many journeys later. Yes, that personal perspective is a qualitative aspect of the Classics Dept Study Abroad in Rome that you just can't account for on paper or in course numbers. Being a 20 year old Georgia girl for 6 weeks in Rome and Italy-at-large empowered me with more knowledge and experience than a traditional semester of coursework. It also cultivated a deep friendship with my roommate, Cheryl Mair Jackson AB/BS '04, and my professors, the late Dr. Gantz and Dr. Bianchelli. I would do it again and again... and surely recommend this academic adventure to any classicist who dares to live, learn, and dream adventurously!
Anna Conti, Summer 2012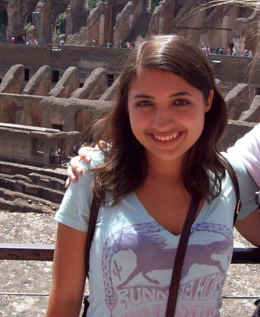 When I used to hear about Rome in my classes at UGA, I was always left with a desire to visit the places I had learned about—especially since I am in fact majoring in Latin and Classics. After all, experience in Italy's historical places could only add to my knowledge as a future Latin teacher and make learning more interesting for my students.  So, with the generous aid of the Classics Department's Thompson Award, I spent nearly six weeks on UGA's Classics Study Abroad in Rome.  On this trip I was able to see in person all of the places I had learned about, and the places that I am learning about currently.  I saw Etruscan tomb frescos, the remains of the Temple of Jupiter Optimus Maximus, and the ruins at Pompeii; I even had the chance to follow the ancient route of the triumphal procession. In the meantime, I experienced Italian culture and cuisine, and even had the opportunity to take weekend trips to Florence and Orvieto. Since the program fee includes metro passes, I was able to travel more around Rome after class with friends and explore parks, museums, and other exciting places. This trip not only was a great chance to learn about Roman history, but it gave me a greater appreciation for the subject matter I have chosen to study as my major and hopefully my career. I highly recommend this study abroad program to anyone interested in the history of Rome; it is an excellent opportunity with an erudite professor.  
Andrew Patterson, Summer 2012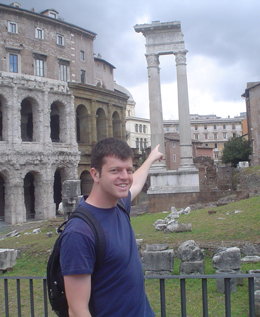 From my first view of the city of Rome, I was enraptured by the intense, charged history that permeates the entire city. My favorite activity while in the Eternal City was to wander the streets, taking in the centuries of glorious achievements, artwork, and architecture that adorn Rome. Even when stepping outside of the front door of our hotel, I was greeted on my left by the remains of the gardens of Sallust, the Ministry of the Treasury, and numerous architectural forms from centuries of construction, while in the distance on my right loomed the Aurelianic walls. And that was only the beginning. When wandering the streets, I came across monument after monument, statue after statue, fountain after fountain, magnificent ruin after magnificent ruin, each with its own unique story: "That statue there was originally Roman, but was later used for anonymous criticisms of the Pope; that fountain there is older than the discovery of the New World; under that street was where Julius Caesar was assassinated," with each new story adding more color to the fantastic painting that is Rome. Also, when in Rome, those stories not only are told, but come alive. When I gazed at the arch of Trajan, or looked out over the forum from the capitoline, or stood in awe before the pantheon, I could feel the glory that was the Roman empire; when I examined the paintings and murals at Pompeii, or climbed an apartment complex at Ostia, or stood in an amphitheatre at Paestum, I caught a glimpse—a long glimpse—into the lives of Romans both rich and poor; when I wandered the palace of Domitian, I could better understand the riches and power of the Roman empire. This is history in all its glory, this is history come to life, this is feeling the presence of great men accomplishing immense wonders. Because of that deeper understanding of Rome and its riches, its greatness, its culture, its power, and its permeating glory, my travel to Rome is my greatest experience in college.
Sin Guanci, Summer 2012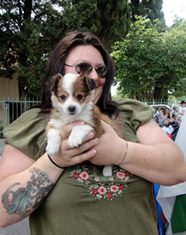 There is no better way to gain an understanding of both the ancient and modern city of Rome than this particular program. Dr. Anderson believes very strongly in a pedagogical approach that is in situ. If part of the day's lecture was about the Arch of Titus, he gave the lecture as we were standing in front of the Arch of Titus. (Incredible!) The archaeological and three-dimensional approach that he takes to teaching the courses for this program results in the best kind of  'sneak-attack'  learning. The students learned the route of a Roman triumphal procession not only by reading about it in a book, but by walking that very route many times over the course of six weeks. Also, the structure of the program presents the history of the Roman Empire in a chronological fashion through the experience and examination of archaeological remnants, a method that truly solidifies the timeline of the Roman Empire in students' heads. I can honestly say that going on the Rome Study Abroad Program changed my life. In addition to being an amazing and fun experience all-around, I truly believe that it made me not only a better Classicist, but a better teacher, as well. I learned so much more about history, archaeology, and Roman culture than I ever knew before, or would have had the chance to learn in such a short amount of time.
Courtney DeRieux, Summer 2014
It was the best summer of my life! The only way that I can describe the trip is "phenomenal." It's the only word to explain how amazing and eye-opening it was!