Image: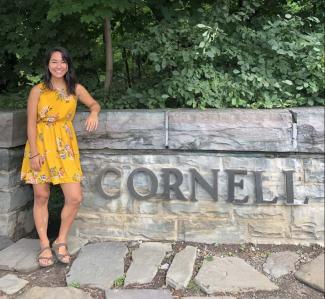 2019 UGA Classics MA Alumna, Hana Aghababian, currently a PhD student in Classics at Cornell University, describes her experience as a Fulbright grant recipient.
For students interested in pursuing a Fulbright grant for year-long independent research, study, creative pursuits, or an English Teaching Assistantship abroad, information below.
From Hana:
I was granted a Fulbright Teaching Assistantship the summer after I graduated from my undergraduate institution. I had planned on continuing directly into a graduate program, but I decided to defer and to teach in Armenia for a year instead. I had set my mind on continuing my education in Classics, so taking a year off to teach English in Armenia felt like I was straying from the path towards my academic and career goals, but it was ultimately an extremely enriching and valuable experience.
I was assigned to the Slavonic University in Yerevan, Armenia, and I was asked to teach in the Linguistics Department. Students had already been studying English (as well as several other languages including Turkish, French, German, Arabic, Spanish, and Russian) for several years, so the goal in my classes was to simply strengthen their speaking, writing, and reading skills. During the first semester, I was asked to teach an Art History course (because of my undergraduate background in Art), and I was free to choose my own subjects for the second semester.
Teaching at a university, where I was barely older than my students, having never formally taught a full course, in a foreign country was extremely challenging. But I learned a great deal about myself and teaching that has proved invaluable since. I learned how to design courses and to adapt to students' needs; I learned what sort of tasks and assignments were useful and what sort were ineffective; I learned how to stand at the front of a classroom and be the expert, but I also learned how to listen to students and facilitate healthy discussion. I was able to apply these things to my classrooms at UGA, and I expect to apply them at Cornell, where I am currently pursuing a PhD, and beyond.
Although teaching in Armenia for a year at first felt like a diversion from my original plans, in fact it solidified my research and academic goals. I had been studying Armenian independently during my undergraduate career, but living in Armenia allowed me to strengthen my language skills, and when I came to UGA, I was able to study Classical Armenian with Dr. Klein and ultimately write a thesis that centered on Greek, Classical Armenian, and Latin. The Armenian language has become one of my main research interests, and studying it in Armenia during my Fulbright helped deepen my interest.
In the end, the fears I had of diverting from a Classics-centered graduate degree path proved trivial, since the Fulbright allowed me to strengthen my teaching skills and to solidify my research interests. It was also amazing to live in the country of my ancestors, and I was able to connect with several people with whom I still maintain contact, several years later. Despite its challenges, the Fulbright became an incredible experience, and I full heartedly recommend it to anyone who is able to apply.
For information about the Fulbright program and deadlines:
The U.S. Student Fulbright Program 2021-2022 competition opened April 1, 2020, and the campus deadline is September 8, 2020. Note to undergraduate juniors -- if you want to go abroad on a Fulbright the year after graduation, this is the time to apply. Seniors and graduate students are also very welcome to apply. The competition is open to U.S. citizens who will have, at minimum, a bachelor's degree completed by spring 2021.
A series of virtual information sessions and workshops, as well as individual advising appointments, will be offered by UGA beginning mid-May.
To be added to the student Fulbright listserv and get more information about upcoming Zoom sessions and advising, students should fill out this form:
https://docs.google.com/forms/d/e/1FAIpQLSfZ91PizhP5qIE5S3vB4qX5Sl4IpC1PcyBBaZicaXnP2O5-sA/viewform?usp=sf_link
Direct questions to UGA's Fulbright Program Adviser, Maria de Rocher, at derocher@uga.edu